Each year, Biz Agency and ZeList analyse the social media performance of brands in Romania and produce a study – aptly named – Top Social Brands, featuring 50 of the most coherent and efficient communication campaigns.
The results of this year's study were presented during the online conference Top Social Brands 2020, on the 2nd of July. And while the top brand names are very recognizable (Samsung, Lidl & Huawei being the first three), there were a few surprises, such as new entries from Ford, Cora or Garanti BBVA.
Here are the top 10 results: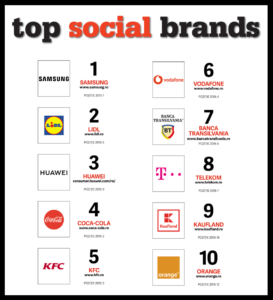 Find out more about the research methodology here >
But what can you learn from these successful social media campaigns? Here are a few guidelines you too can follow to make most of your social presence:
Be authentic and original

like Samsung – by creating new and unique experiences for your specific user or buyer community, you can stand out from the crowd and get more shares and interactions.

Create content in-house

like Lidl – by investing and growing specific social communities, you can develop a better relationship with your audience. And by understanding their needs, you can produce specific content in-house, with a much smaller investment.

Use the right influencers

as Huawei did – by partnering with opinion leaders and influencers from multiple areas (lifestyle, technology or photography) you can achieve a more attractive social media mix, that could offer new experiences for your clients.

Use trends to your advantage

like Banca Transilvania – by focusing on newer trends (in their case video and podcasts) and making content that fits, you too can increase your brands visibility and reach.
These are just a few of the lessons you can apply to your own business. For more, watch the whole recording of the Top Social Brands 2020 conference. Is there something I left out? Comment below and let's talk some more.