Is it just me or the start of 2023 was the busiest since… well forever! The year started with a BANG: full of new projects, launches and happy clients. But no matter how busy I find myself, this is also the perfect time to set up the agenda for events and conferences. Especially now that spring has arrived, Bucharest has become a bustling hub for entrepreneurs and professionals from various industries, the city supplying an exciting line-up of events. 
And if you are like me, you love a well curated list, perfect to add in your calendar. Say no more, I got you! Here's a rundown of some of the events taking place in Bucharest in the spring of 2023:
1. Extraordinary Women
Revista Biz invites extraordinary women on stage to share their stories, empowering and inspiring others to explore, dare and find their path. It's a perfect event to start the season, having light content sessions and networking moments throughout the day. So if you are an artist, entrepreneur, innovator, activist, and especially if you identify as a woman, then this might be the perfect event for you. 
If you want to join, tickets are 60 euros, and you can click here to get one. 
I'm clearing my calendar on the 7th of March so maybe we can see each other there!

2. SocialPedia 46 – Freelancing în 2023
On March 14, starting from 6:30 p.m.,the Monarh Restaurant in Bucharest (Calea Plevnei 44-46) opens its doors for a SocialPedia edition about Freelancing in 2023. There will be discussions about how to start freelancing in social media and digital marketing, how to use social media to be more visible, but also how to build your personal brand as a freelancer. You can sign up for free by clicking on this link.

3. Wall-Street Financial Forum 
Together with the specialists in the financial field, Wall-Street Financial Forum 2023 desires to create a guide of best practices in inflation times. It also focuses the second part of the conference on entrepreneurs, responsible for the economic recovery after the pandemic, and provides information on how companies can continue to improve and grow, even in this economy. You can find out more live, online or in person, on the 16 March 2023 @ 10:00 – 15:00. More about the event here.

4. PR & Communication Summit
The PR & Communication Summit is an annual event that brings together professionals in the field of public relations and communication to share insights, best practices and of course to get a chance to network. The event is set to take place on March 21st, 2023 in Bucharest and is expected to attract professionals from various positions, like: communication and corporate affairs managers, New Media specialists, Independent consultants, Advertising specialists, PR specialists and content creators. 
You can book your ticket for 95 euros here.

5. Forbes Woman Summit
Forbes Woman Summit 2023, is a business event aimed at women in leadership and entrepreneurship. With the tagline: "What's your Superpower?" the event will cover topics such as gender equality, diversity and inclusion, and business strategy. It's invite only, but if you are on their list, clear your schedule on the 23rd of march and head over to Biavati Events.

6. Social Media Summit
On the 22 we have Social Media Summit, an event aimed at communication specialists, marketers, but also bloggers and influencers. There will be  Q&A and networking sessions, effective strategy presentations and also the launch of the Digital Report (a great tool for anyone who wants to know what are the most important digital agencies in Romania and what trends and developments are awaiting us in 2023. 

7.World of Digital Spring
Citizens of Digital are expected to join the World of Digital Event on the 29 of March, at Pentagon Events where interesting new topics will be discussed by renowned speakers. All networking sessions will be full of surprises from sponsors and brands. Sign up here.

8. Forbes reINVENT Summit 
Forbes reINVENT Summit is designed to be the fresh breath of air for any person navigating the troubled waters of Romanian business. Announced to be taking place in April, the event will give each speaker only 10 minutes to share valuable actionable advice. Whether it's business strategy, marketing or sales, top leaders will answer the question on everyone's lips, "what do we do now?".

9. Digital Marketing Forum
The Digital Marketing Forum is an annual event that brings together digital marketers, advertising agencies, and industry experts to discuss the latest trends and techniques in digital marketing. The event is scheduled to take place starting 11th of May 2023 at JW Marriott Grand Hotel Bucharest and will cover topics such as social media marketing, search engine optimization, and email marketing. If you are interested, here is a link to book your ticket.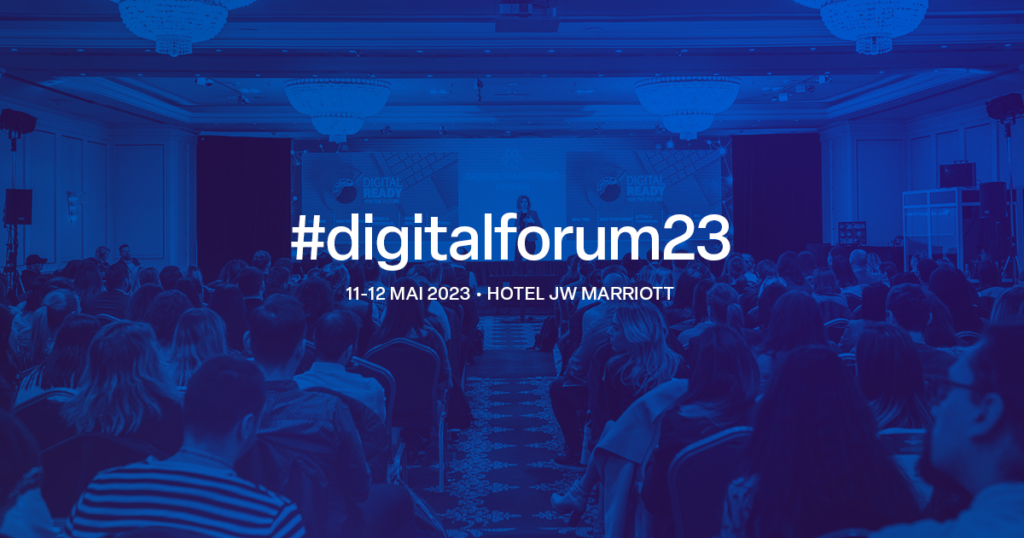 What events would you attend? And are you going in person or maybe watching the conferences online? Also, if I missed an interesting event happening this spring, please leave me a message and I will be sure to update the list (and maybe join you).