In the last few months I had multiple clients ask if using local search engine optimization will improve their online visibility. And while statistics show that 72% of consumers who search for local businesses visit stores within five miles of their location, I understand the reasoning behind the question. SEO is an expensive endeavour and not all companies have the budget for it. But when done right, search optimization can make a huge difference. So let's talk about it and see why you should be using local search engine optimization in 2022.
But before I start discussing local SEO, you should read my previous post about basics in SEO to be up to date with what this process involves. All caught up? Ok! Let's go!
What is local SEO?
As the name implies, local SEO helps you increase search engine visibility with local users. While traditional SEO focuses on boosting your site's visibility on a national or global scale, local SEO allows you to capture local search territory in order to connect with local searchers. 
That means you must update your content and social media brand pages so that search engines can work efficiently for your business on a local level. By providing more information about your company, you will gain more organic traffic and credibility.
Remember: ensure your NAP (name, address, phone number) and website link are always online.
Let's take an exemple! 
Let's say you are on holiday in a new country and you want to try some traditional food located near your accommodation. All you need to do is type "traditional restaurant near me" or "traditional restaurant in [city]" into google search field. This search will return the top three traditional restaurant locations in your area. These top businesses indicate that they have a solid local SEO strategy.
Who needs local SEO?
Any business that has a physical location or serves a geographic area can use local SEO like:
Local services: hair salons, fitness centers, florists, car wash, etc.

Educational and personal development businesses: schools, kindergartens, high schools, universities, psychological offices, meditation & yoga studios, etc.

Businesses in the hospitality industry: hotels, motels, restaurants, bars, cafes etc.

Medical businesses: clinics, dentists, doctors, veterinary clinics etc.

Law firms.
Who doesn't need local SEO?
E-commerce businesses.

Online-only services.
Why is using local SEO important in 2022?
First, let me show you some statistics:
Second, let me explain the benefits of local SEO:
Improves your online visibility and local ranking (better conversion rates)
When you set your NAP (name, address, phone number) you create what are actually known as online business citations. These citations are built on sites like Facebook, Google, Instagram, TripAdvisor, Airbnb or other relevant online directories for your business. Using them along your main website gives you more online visibility which leads to more local ranking, more organic traffic and sales. Some statistics point out that local searches lead to purchases 28% of the time (source: Joel House Search Media).
Attracts the right audience and builds a strong community.
As I wrote above, local SEO improves your website traffic. This traffic means that you will be discovered by the right people, those who are genuinely interested in your products and services and more importantly, those who are around to buy them. So, in this case local SEO helps you to attract the right audience and build a strong community. 
Boosts your visits and builds a long-term business relationship
As the statistic above showed, consumers are more likely to visit a business if they can find local information about it. This means that local SEO increases business visits and, consequently, sales. Furthermore, many people who have a positive first-time experience will return and establish a long-term business relationship.
Helps on creating local collaborations
When done right, being listed in local directories will help other entrepreneurs find you and collaborate with you. These connections, in turn, will boost your relevance, credibility and authority. It's a good way to promote each other's products and services and gain new potential clients..
Gives you a long-term competitive edge
People are directed to a business that ranks higher on SERP results. This means companies that sell the same products as you but do not use local SEO probably will not appear on the first page. As a result, you can gain a long-term competitive advantage over your competitors who use other marketing strategies.
Increases the number of local reviews 
People love to give honest reviews if you provide good products and services, which in turn, will help you gain more customers. New reviews will also boost your brand authority and loyalty. However, this will not be possible unless your business is optimized for local SEO. 
P.S It's normal to receive negative reviews. The key here is to remain client-oriented and do your best. Keep in mind that your potential customers will be watching how you handle negative situations.
Helps you appear in Google's three pack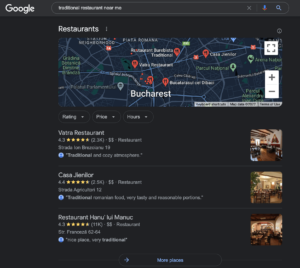 Remember the example I gave you at the beginning of this article? When a person searches for local services and products or places to visit in a specific area, the search engine displays a local pack with three recommended options to choose from. The majority of users want quick results and will not waste time searching for more relevant locations. They will see the top results and will consider these options to be the perfect match. 
Reduces advertising costs
SEO has a significant cost advantage over other marketing efforts such as advertising. When you rank high in local SEO, it means that more customers will see your website and products, and you will spend less on other forms of advertising, such as ads on social media or banners.
Answering the question: Should you be using local search engine optimization in 2022?
As you can see, local SEO for businesses involves a lot of work, but it's also a powerful marketing tool for any company that relies on nearby customers. And with a bit of dedication, and maybe some help from a proffesional, your business will profit from local search engine optimization in 2022.
Would you want to learn more about applying it? Let's set up a call!