Today, during the BrandRO conference, held at Galateca Gallery in Bucharest, we got a clue on who are the best and most powerful brands Romania has to offer this year. And not surprisingly, 3 of the first 10 are cosmetic brands (girl power!).
During the event, Adina Vlad – Managing Partner, Unlock Market Research – presented all 100 companies that made their way into our lives and homes, through a nostalgic approach, or maybe a more modern one.
"Romanian brands are going through a very positive phase. This is the moment when we can truly call "made in Romania" a privilege. " remarked Adina Vlad before diving into the big list.
I'm not going to name all of them here (you can buy a copy of the 2015s' Top 100 most powerful Romanian brands here) but I whould like to point out some of my favorites (in naming order):
Banca Transilvania – 42 place;
Ciuc – 69 place;
Dacia – 14 place;
Eugenia – 35 place ;
Fares – 39 place ;
Fan Courier- 23 place;
Pegas – 79 place;
Petrom – 28 place ;
Rom – 18 place;
Ursus – 54 place ;
As for the first ten brands we have: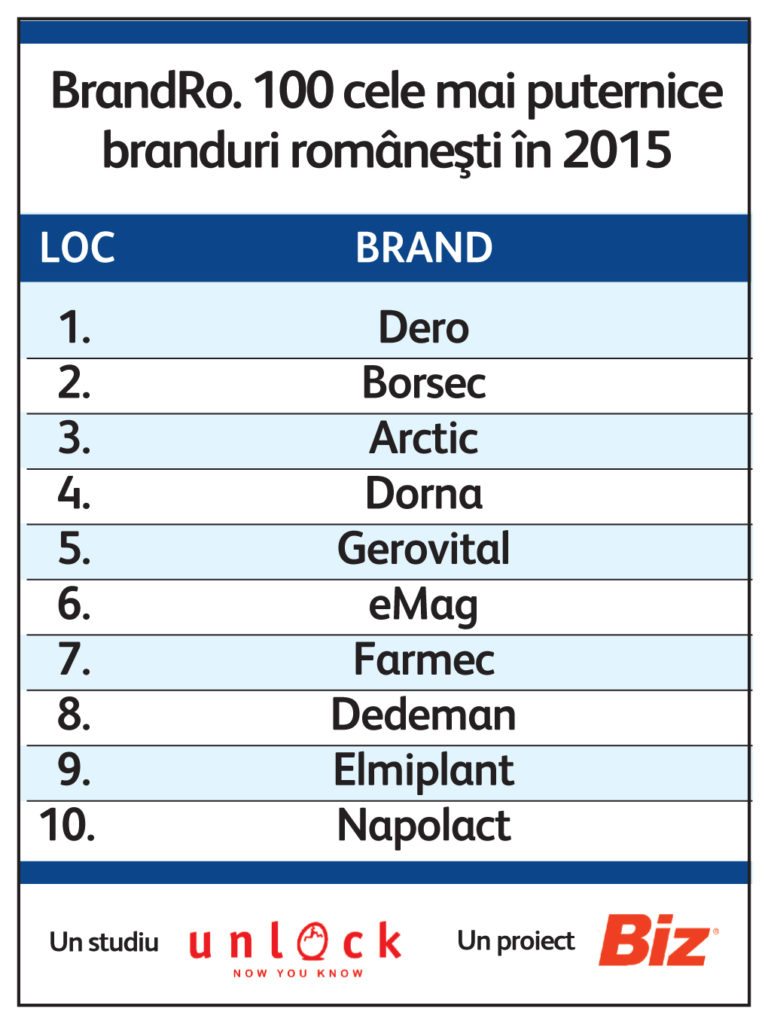 It's nice to note that for the first time in six years, the first place goes not to Borsec, but to a Dero. We can also see a trend growing for the food and hygiene categories. Another noteworthy rise is that of eMag. You can read more about the whole list, as well as methodology and conclusions on www.revistabiz.ro.
Here are some pictures from the event ????
Did your favorite Romanian Brands made the list? If not, who do you think was left out? Comment in the form below and let me know.